Tomorrow's Medicine, Today.
Dedicated to getting you back to better health with some of the world's top Regenerative Medicine Orthopedic specialists and a broad range of nonsurgical orthopedic therapies.
The Greatest Variety of Treatment Options in San Diego
San Diego Orthobiologics Medical Group provides the most comprehensive treatment options currently available in San Diego. We believe that each patient is unique and deliver customized care designed to produce outstanding results. Our team of world class physicians combine the best of traditional orthopedic care with innovative regenerative medicine therapies.
Get Our Latest News & Insights
San Diego's Leading Physicians, Dr. Christopher Rogers and Dr. Mary Ambach, provide expert insights for better health and healing through webinars, Facebook Live events, and more.
Topics span Osteoarthritis, Spine Pain, Sports Injury Recovery, Low Back and Neck Pain, etc. with innovative treatment solutions in Regenerative Medicine & Orthobiologics. Healing Starts Here!
What Are Orthobiologics?
ORTHOBIOLOGICS are substances derived from cells and cell products found in your own body. They are designed to heal bones, cartilage, tendons, ligaments, muscles, nerves and intervertebral discs. We use them to permanently heal injured tissues more quickly and naturally. Examples of Orthobiologics include platelets, plasma, fibrin, protease inhibitors, growth factors and stem cells.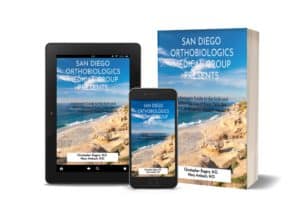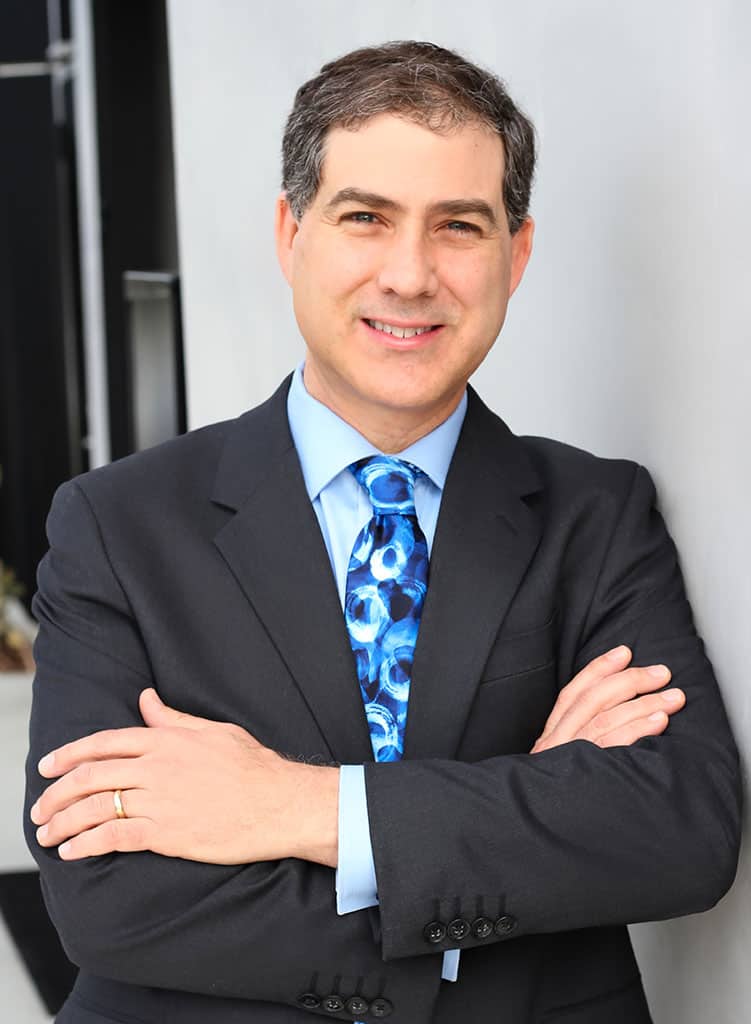 Dr. Christopher Rogers
Christopher Rogers, MD
The only board certified Regenerative Medicine physician in Southern California.
Dr. Christopher J. Rogers is a board certified physician in both Physical Medicine & Rehabilitation (PM&R) and Regenerative Medicine. With more than 20 years of clinical experience, Dr. Rogers is one of the world's leading experts in the field of orthopedic regenerative medicine, specializing in the non-surgical treatment of spine and joint conditions. He has developed new approaches for the treatment of tendon injuries, osteoarthritis and disc degeneration which provide safe and viable alternatives to surgery.
About Dr. Rogers
Mary A. Ambach, MD
Dr Ambach is board certified in Physical Medicine and Rehabilitation and Pain Medicine. As a key leader in the field of Regenerative Medicine, Dr Ambach has published clinical research studies and book chapters, trained physicians from around the world and presents at international medical conferences. She has more than 10 years of experience in treating sports, spine and pain conditions including treating professional athletes and olympic athletes.  She specializes in non surgical musculoskeletal and spine care, regenerative injection therapies, sports medicine and interventional pain procedures.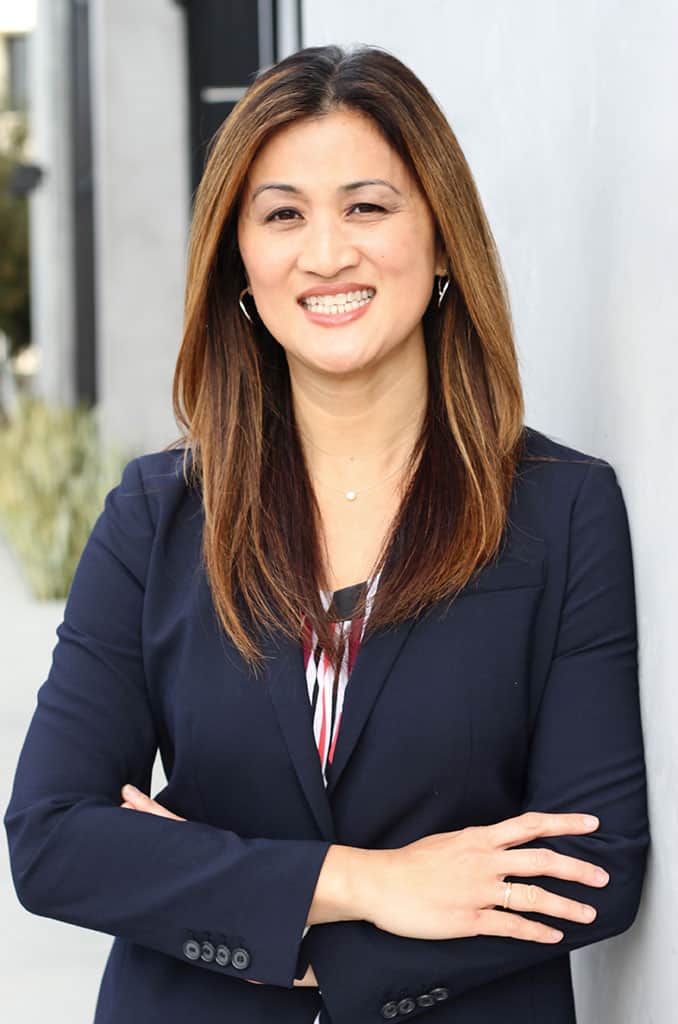 Dr. Mary Ambach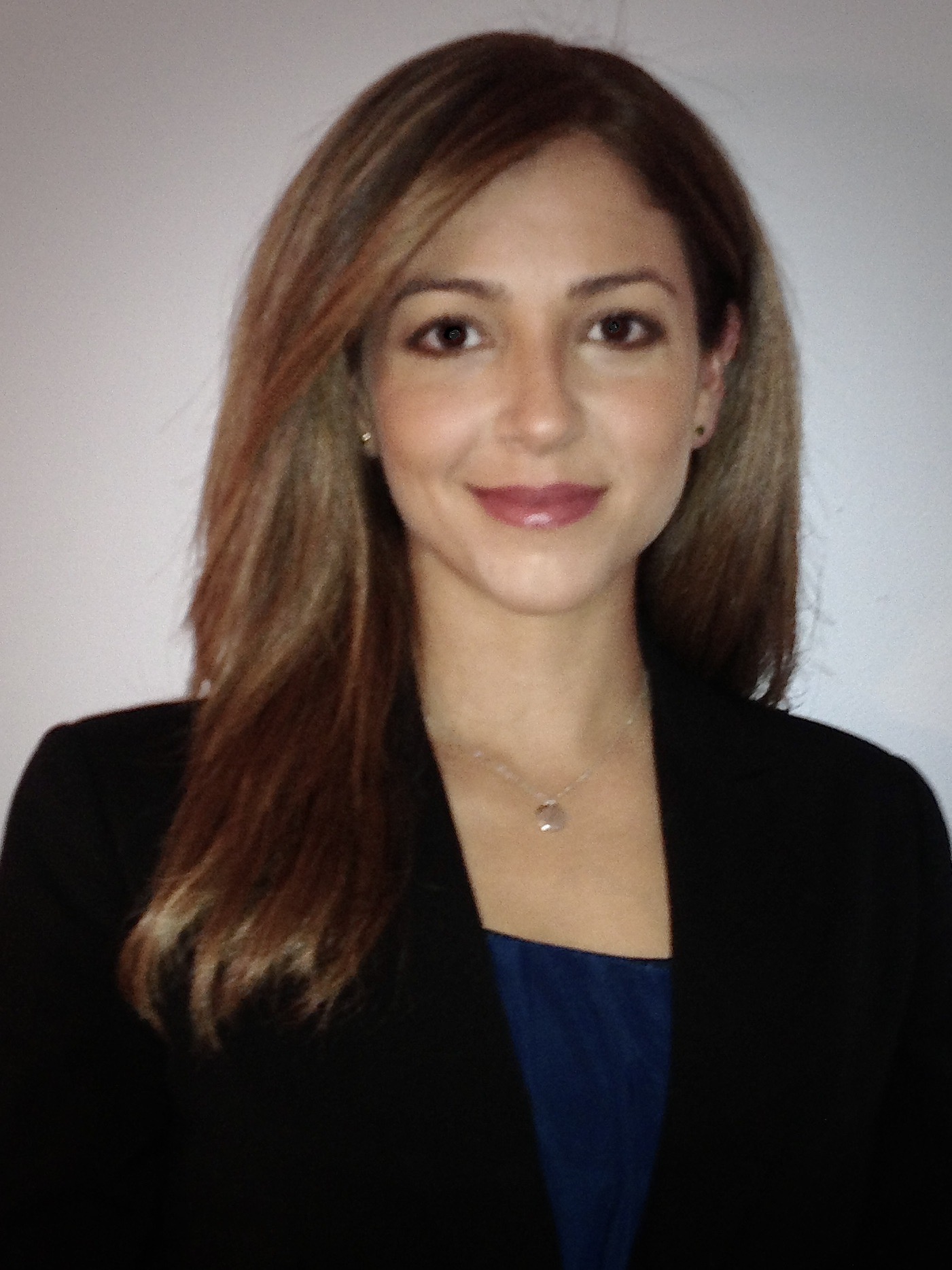 Dr. Mirielle Diaz-Molina
Mirielle Diaz-Molina, MD
Dr. Mirielle Diaz is a double board certified physiatrist. She is a Diplomate of the American Board of Physical Medicine and Rehabilitation with a subspecialty certification in Sports Medicine. She has published literature on therapeutic programs for musculoskeletal disorders. Dr. Diaz-Molina specializes in the comprehensive non-surgical treatment of musculoskeletal and sports-related injuries.
About Dr. Diaz
Non-Surgical Regenerative Care for Pain Relief and Faster Healing
If you're dealing with a painful orthopedic condition, complete this form and we'll send you email information on some of the most common questions around these procedures. Most patients find it beneficial to talk with one of our team members, so provide your phone number if you would like for us to give you a call. This is NOT a sales call. We're here to help you make an informed decision.
Non-Surgical Regenerative Care for Pain Relief and Faster Healing
Request Regenerative Treatment Information by Email Please note: Regenerative treatments are not covered by insurance.
Where Are You Experiencing Pain?
San Diego Orthobiologics Medical Group has treated thousands of San Diegans just like you. Our doctors have dedicated their professional lives to bringing you exceptional service and innovative orthopedic care.
Select a problem area to learn more about the conditions we treat.
[interactive_body heading="" slug="" fade-in-markers="false"]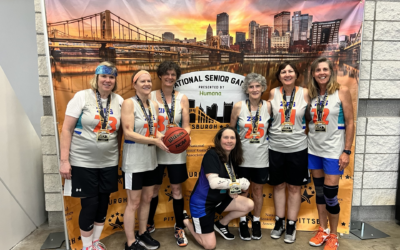 SDOMG wants to congratulate Marie Ramirez and her team for winning the gold medal in Basketball (60's Division) at the Senior Nationals, aka Senior Olympics, in Pittsburgh this year. Her team was undefeated! Marie had a PRP procedure to her ankle with Dr. Diaz at San...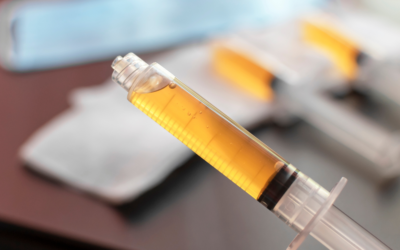 Platelet-rich plasma (PRP) can be an effective treatment for osteoarthritis in the shoulder, knee, hip, or thumb. But when it comes to the use of platelet-rich plasma therapy to treat joint pain, one size does not fit all.  To reach its maximum benefit, PRP should be...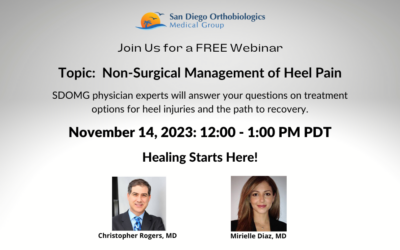 Join Dr. Rogers and Dr. Diaz for a FREE Webinar on the Non-Surgical Management of Heel Pain where they will discuss common heel injuries and treatment options. When: November 14, 2023 Time: 12:00pm PDT Register HERE for the Webinar
What Our Patients Are Saying
As an active and progressive leader in the field of Regenerative Medicine, we've had the pleasure of seeing and experiencing amazing results. While we can't guarantee complete recovery in each case, here are some of the success stories and testimonials that we can share.
Dr. Ambach is very knowledgeable about regenerative medicine and all the injection therapies. She is very concerned with her patients' well-being and looks for solutions that will work for each patient. She has helped my lumbar pain tremendously with PRP in both the epidural space and facet joints. She's awesome.
Scott S.
I went to many doctors to find out what was wrong with my foot. Finally a friend referred me to Dr. Rodgers and he gave me a proper diagnostics and solution to my problems. Once we found out what it was and decided on PRP. Dr. Rodgers carefully examined the area and inserted it into my foot. Him and his staff were extremely kind and comforting before, during and after the procedure. I truly believe this whole staff really wants to help each and every single patient as best as they can. They treat you like family and you feel like your family when you are there. Thank you very much for everything and I will be recommending you to all my family and friends.
Matthew K.
I saw Dr Ambach for left hip pain and she did a thorough exam with ultrasound and my MRI, and then did PRP. Not only was she thorough, but very kind and understanding. Since the PRP I feel like I have a new hip thanks to her! I cannot say enough good things about her and her office!
Theresa G.
Dr. Rogers is truly brilliant. He has expertly treated me for chronic shoulder and back pain, which were resultant from 25 years as a US Marine Officer. Noteworthy, he astutely assessed the acute achilles tendonitis injury to my left leg and expertly using platelet-rich plasma (PRP), completely resolved the condition and nagging pain. Thanks to Dr. Rogers' outstanding acumen, I have finally been able to resume bother running and biking completely pain free. Even more incredible, my left achilles came back stronger that the right! Extremely personable, he is also very open-minded and thoughtfully considers multiple options to treating any condition, which has precluded surgeries and other invasive procedures. I could not be more grateful. He has secured my highest recommendation. Thank you Dr. Rogers.
George M.
I became a patient of Dr. Ambach about 2 years ago when I was looking for alternatives to back surgery. Dr. Ambach is very personal, knowledgeable, and has great bedside manner. She took her time in evaluating me. I never felt rushed. Her staff is extremely friendly as well. I finally made the decision to move forward with stem cell treatment. After about 3 and a half months, post treatment, I am starting to see results. This is very exciting to me, especially as an Ironman triathlete. I feel like I am going to be able to return to the sport of triathlon with confidence. If your considering stem cell therapy or any other kind of regeneration therapy, I would highly recommend you to visit Dr. Ambach.
Dave S.
I saw Dr Rogers yesterday and really appreciated his friendly manner and his willingness to explain what was happening with my back and the best way to treat it. He took all the time I needed and really knew what he was doing. I would be comfortable recommending him to anyone.
Denise B.