The Natural Way to Heal Using Your Own Powerful Fat
We're pleased to have been the first medical center in San Diego to offer the revolutionary LIPOGEMS® regenerative medicine therapy.
LIPOGEMS® is a disposable, single-use, FDA approved device for processing and same-day injection of fat tissue. It's a non-expanded and micro-fractured autologous fat tissue product for treating joint and tendon injuries. The minimally invasive procedure gently processes your body's own powerful fat tissue in order to help you heal the natural way.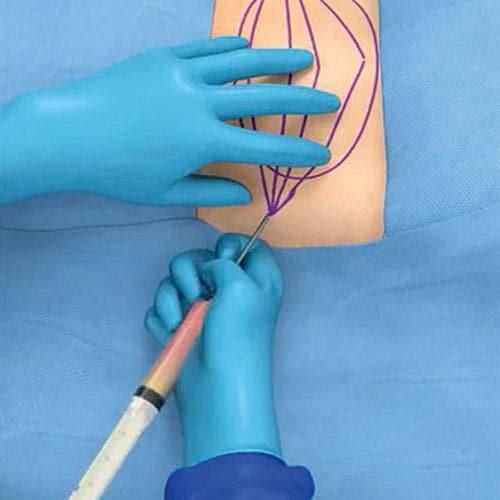 1. Fat harvesting procedure
In a minimally invasive and immediate procedure, the physician will make a tiny puncture through your skin and collect a small amount of fat from either your midsection or "love handles".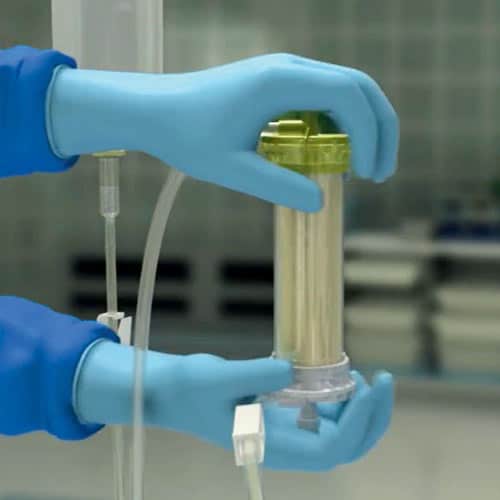 2. Gently processing your fat using saline
Next, the collected fat will be processed in the unique Lipogems device using only sterile saline solution to remove contaminants. During this process, your fat is washed, rinsed, and resized into smaller clusters while keeping the natural beneficial properties of your fat.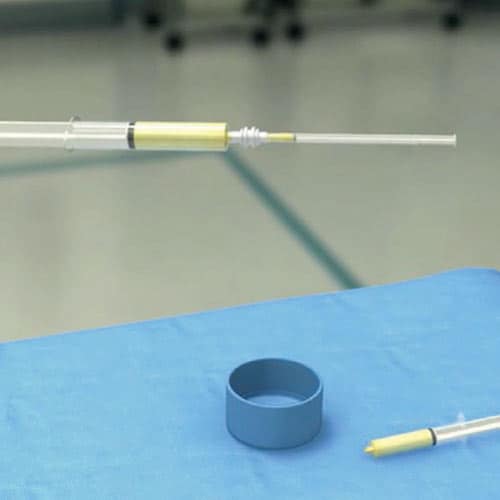 3. Lipogems is delivered into the body area(s) to allow the patient to heal the natural way
Since the Lipogems process micro-fragments the fat, the size of Lipogems tissue is ideal to facilitate healing in the treatment site. The physician will then use a small needle to inject the Lipogems tissue into the treatment site.
"I can walk and it doesn't hurt it's a miracle. Stairs occasionally hurt, getting better, I couldn't even try before. I am just amazed."
— M.W. (Patient six months post Lipogems)
Your Own Powerful Fat
Preserves the reparative cells inside of the fat
One benefit of Lipogems is that it keeps the special cells within the fat (including adipocytes, stem cells, pericytes and other cells) without jeopardizing the cell structure and function. Lipogems maintains the important reparative cells within the fat working as a functional unit as they do in the body. This allows your body to heal the natural way by repairing, reconstructing and replacing damaged or injured tissue.
Optimal size
The device gently resizes the fat tissue to an optimal size that is easy for injection and also allows for greater interaction with the treatment site to help repair, reconstruct, replace the damaged or injured tissue.
May be used in multiple areas
For patients that suffer from orthopaedic conditions in multiple areas of their body, the Lipogems device can easily process the fat tissue to be used in those areas. (Note: The patient must have enough fatty tissue to be processed)
The First Patient Treated with Lipogems Therapy
Lipogems is a new medical procedure that utilizes the reparative cells found in adipose tissue (fat) to heal injured tissues. Physicians use it to treat cartilage injuries, arthritis, and tendon tears. The most common uses include knee arthritis, rotator cuff tears and meniscal tears.
I treated my first patient with Lipogems about three years ago. Jim was a retired firefighter who suffered with knee pain as a result of moderately severe arthritis following an ACL (anterior cruciate ligament) reconstruction surgery. He had difficulty with walking and could not exercise without pain. He preferred to avoid knee replacement surgery so we attempted several non-surgical treatments. Steroid injections, gel injections, physical therapy and a platelet rich plasma injection would provide temporary relief but his symptoms returned a few months after each treatment. His condition was slowly worsening and we were running out of options. Over the last few decades there have been significant advances in our understanding of cellular biology and the body's ability to heal itself. In 1991, Dr. Caplan first isolated, characterized and named the mesenchymal stem cell, a cell found in the bone marrow which has the ability to turn into cartilage, bone, tendon, ligament, and bone marrow cells. In 2001, Dr. Patricia Zuk from UCLA discovered mesenchymal stem cells in the adipose tissue. Later, it was discovered that these cells are located throughout the body near arteries, capillaries and microvessels. Adipose tissue is one of the richest sources of these cells and they retain their numbers throughout a person's life. Dr. Carlo Tremolada is a plastic and maxillofacial surgeon who was looking for a better way to create adipose tissue grafts for his maxillofacial surgery. He discovered that a specific method of processing the adipose tissue would improve his outcomes. He would later invent the Lipogems device which resizes and rinses aspirated adipose tissue to utilize the cell's ability to decrease inflammation and support tissue repair. Dr. Konrad Slynarksi, an orthopedic surgeon from Poland, had treated several patients with knee arthritis using the Lipogems technique. In 2016, I was fortunate enough to meet with Drs. Caplan, Tremolada and Slynarksi and first learned about the Lipogems method. Dr. Slynarksi provided data demonstrating safety and efficacy and encouraged me to consider using the new treatment. I shared this information with Jim and asked him if he was willing to be one of the first patients in the United States to be treated with this new method. He was eager to try anything at this point, and so was I. After some research article review and training from a plastic surgeon, I was ready to treat my patient. I harvested about 60 ml of adipose tissue, processed it in the Lipogems device and injected the tissue into Jim's knee using ultrasound visual guidance but not knowing what to expect. He tolerated the procedure well, but I advised him to take it easy for a few weeks.
I was pleasantly surprised when Jim sent me an email about three weeks later. In that email, there was a video of Jim skiing in Whistler, British Columbia. He had been skiing for a week without pain and having a great time doing it. Almost three years later, Jim continues to send emails and pictures of him skiing, hiking, traveling and having a great time.
Since that first treatment, I and many other physicians have treated hundreds of patients with this new approach. Initial research studies have been promising with more studies being completed every year. More than 85% of our patients have a positive response and there have been no major complications. We have treated patients with knee, hip, shoulder and thumb arthritis but also have seen significant improvements with rotator cuff, achilles and other tendon tears which had not responded to standard medical care.
The Lipogems procedure has been a game changer in the non-surgical treatment of orthopedic conditions that were otherwise difficult to treat. We offer it to patients when more conservative methods do not work and they are trying to avoid surgery. I have trained dozens of sports medicine physicians and orthopedic surgeons in the Lipogems method so they may offer it to their patients as well.
Christopher Rogers, MD
FAQ
Lipogems is a game changer in regenerative medicine due to its cutting edge technology that uses your body's own fat tissue to cushion and support areas of injury or damage as your body heals itself. Lipogems is an FDA-cleared medical device that is used to harvest, concentrate, and transfer autologous adipose tissue. The adipose tissue that is being processed by Lipogems is 'minimally manipulated' in accordance with FDA's criteria for human cell and tissue products. The fat tissue can be removed from the abdomen or thigh areas. This tissue is then precisely injected into the patient's injured areas with the use of ultrasound or x-ray guidance.
Unlike steroid or gel injections, the tissue will stay in the treated area for years allowing your body to maximize the benefits for an extended period of time. The Lipogems procedure can be performed in less than one to two hours in an outpatient clinical setting. Lipogems was awarded Best New Technology in Sports Medicine in 2016 by Leading Sports Medicine Physicians.
LIPOGEMS® is a comprehensive Regenerative Medicine treatment that uses your own stem cells and their cellular 'niche' to maximize results. Mesenchymal stem cells require support from other cells and proteins to exert their healing benefits. Unlike other so-called 'stem cell' treatments, the unique advantage of LIPOGEMS® is that the complete healing environment of the fat tissue is maintained to improve cell viability and regenerative capacity. It allows improved cell viability over a greater period of time.
Dissolving the fat with enzymes as occurs with stromal vascular fraction (SVF), eliminates or destroys some of stem cells and tissues required for healing. This activity is prohibited by the US Food and Drug Administration (FDA) without special permission or research licenses.
LIPOGEMS® is not simply a 'stem cell' treatment. Rather, it's a comprehensive Regenerative Medicine treatment. Mesenchymal stem cells require support from other cells and proteins to exert their healing benefits. The unique advantage of LIPOGEMS® is that the complete healing environment of the fat tissue is captured, carefully processed, and then precisely injected.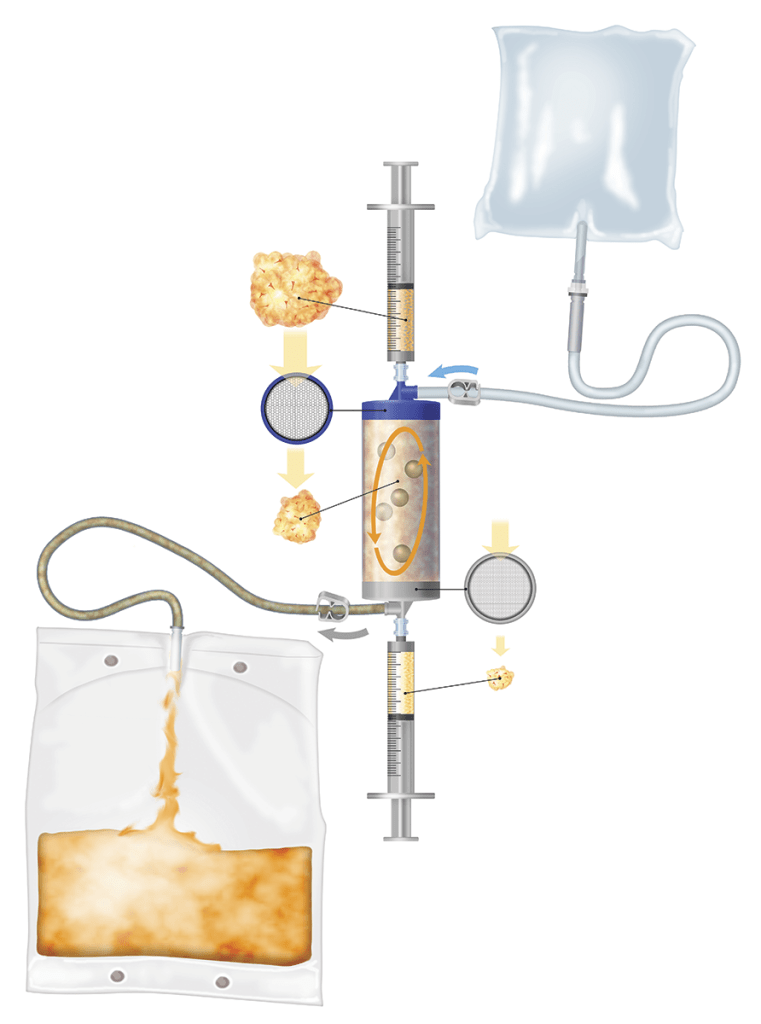 In biology, adipose tissue or body fat, is a structural tissue that functions to physically support, store energy, cushion and insulate the body.
According to FDA's guidance document "Adipose Tissue: Regulatory Considerations", human cell and tissue products (HCT/Ps) include adipose tissue and cells obtained from adipose tissue. Adipose tissue is typically defined as a connective tissue that stores energy in the form of lipids, insulates the body, and provides cushioning and support for subcutaneous tissues and internal organs. It is composed of clusters of cells (adipocytes) surrounded by a reticular fiber network and interspersed small blood vessels, divided into lobes and lobules by connective tissue septa. Additionally, adipose tissue contains other cells, including preadipocytes, fibroblasts, vascular endothelial cells, and a variety of immune cells. Because connective tissue provides structure and support to the body, FDA considers connective tissue, including adipose tissue, to be a structural tissue.
In addition, Lipogems considers adipose tissue to be a structural tissue, with functional characteristics for reconstruction, repair, or replacement that relate to its utility to cushion and support the other tissues.
Adipose tissue has many natural reparative characteristics that help to promote a healing environment throughout the body and has been widely studied in the literature and is known to have an innate healing potential. Based on a study on "Stem Cells from the adipose tissue as allogenic player in cartilage repair: in vivo performance" by World Stem Cell Summit, adipose tissue seems very attractive as it fulfills demanding requirements with significant chondrogenic potential. Regenerative cells from the adipose tissue have demonstrated to be immunoprivileged and proposed as a major player in treatment for focal cartilage lesions.
Research has shown that regardless of a person's age, their fat maintains certain reparative properties unlike other tissues such as bone marrow, which may lose healing capacity with age.
Minimally invasive to harvest due to its autologous source
Future medical and cosmetic procedures such as autologous fat transfer
Abundant volume, allowing treatment of multiple sites, unlike other therapies such as bone marrow (BMAC) and amniotic tissue
Has the potential to save people from devastating effects of illnesses, degenerative diseases and even genetically-based conditions.
Studies report that adipose tissue may contain 100-500x more regenerative cells than an equivalent volume of bone marrow aspirate.
Contains high concentration of micro-vessels which harbor specialized healing cells such as perivascular cells, also called pericytes:
Type of cell that is wrapped around small blood vessels within adipose tissue
Known to react to a site of injury and promote a reparative environment
Natural repair mechanism by communicating with local tissues to aid in healing
The Lipogems® device is a class II A single-use, sterile medical device intended for the closed-loop processing of autologous (your own) fat tissue in medical procedures involving the harvesting, concentrating and transferring of a patient's own fat or adipose tissue harvested with a legally marketed lipoplasty system. It gently washes inflammatory impurities from the adipose tissue (blood and oil) using saline and resizes the adipose tissue to create an optimal size to inject the Lipogems precisely into desired tissue locations by the physician to support the area as it heals.
Lipogems® is the only FDA-cleared device that gently micro-fragments the patient's adipose tissue to achieve a minimally manipulated human cell and tissue product that preserves the cell and tissue microarchitecture of the original tissue. It is associated with great regenerative potential and optimal handling ability.
Lipogems® requires minimal manipulation, therefore the processing of the tissue does not alter the original relevant characteristics of the tissue relating to the tissue's utility for reconstruction, repair, or replacement.
Lipogems can be used as an alternative for in-office applications or as an adjunct to surgery in an outpatient surgical setting such as for orthopedic surgery or arthroscopy procedures.
The device used in the following specialties or medical centers where harvesting adipose tissue is desired:
Orthopedic surgery
Arthroscopic surgery
Neurosurgery
Other surgical disciplines
Lipogems has now been successfully performed in more than 8,000 clinical cases globally. You can be a candidate for these several conditions:
For homologous use, meaning the repair, reconstruction, replacement, or supplementation of a recipient's cells or tissues with an HCT/P that performs the same basic functions in the recipient as in the donor.
Can potentially be used as an alternative to surgery, supporting, repairing and may promote healing in orthopedic and arthroscopic surgery.
Suffering from an injury or ailment that limits your normal daily functioning due to a soft tissue defect in the tendon, ligament, muscle or cartilage
Treatment options, such as physical therapy, medications or steroid injections have not provided permanent relief
You would like to explore Lipogems as a minimally invasive alternative to a majorsurgical procedure
First the skin is numbed using local anesthesia.
Next a thin blunt-tip cannula is inserted into the fat layer and the fat is infiltrated with a mixture of sterile saline and anesthetic.
A thin harvesting cannula is used to aspirate the fat. This takes only a few minutes and is virtually painless. Depending upon the number of joints or tendons requiring treatment, about 4-8 tablespoons of fat will be harvested. This small amount is not enough to make a cosmetic difference.
Once the fat is harvested, the proprietary LIPOGEMS® device is used to wash, rinse and resize the tissue. This takes about 15 minutes and is done while you wait.
The resulting regenerative tissue graft is then injected into the injured area using high-precision ultrasound guidance to insure safety, comfort and effective treatment.
The total length of the treatment is about 90 minutes, but most of that time involves either waiting for the anesthesia to take effect or waiting while the technician processes the fat for injection.
Compliance
Lipogems® is an FDA-approved method that gently micro-fragments the adipose tissue while preserving the cell and tissue micro-architecture.
Convenience
Lipogems® is a disposable, closed-loop system processing kit containing all necessary harvesting tools that are convenient for clinics and surgical settings. Its single-use kit can be used to process plentiful volume of tissue for multiple treatment sites.
Easily Accessible with Sustained Support
The result of the procedure has good fluidity, containing structural tissues that can be injected through a small gauge needle with sustained support mechanism, acting as a natural structural tissue.
Because the Lipogems process microfragments your fat, Lipogems stays in the area where it is injected instead of being reabsorbed, allowing your body to maximize the benefits of Lipogems for a longer period of time.
Short Procedure Time
The procedure takes less than 1 hour from preparation to injection (could be less in conjunction with arthroscopy).
Minimally Invasive Technique
Through a small incision in the skin typically in the abdomen, a 17 gauge blunt infiltration cannula is used to anesthetize subcutaneous fat tissue with a dilute saline/lidocaine/epinephrine solution (local anesthesia) and a 13 gauge blunt aspiration cannula is used to collect the adipose tissue with a vacuum syringe.
Wash and Rinse
Lipogems® is a closed-loop system that uses only normal saline. It uses mild, mechanical forces exerted on the tissue in saline solution in order to reduce the traumatic action on the tissue.
Gentle Processing
The unique Lipogems process resizes the tissue in order to optimize tissue survivability in the treatment site while preserving the natural structural properties of your fat.
This includes:
Cell preservation and tissue micro-architecture
Smaller, micro-fragmented size thru increased surface area and interaction with treatment site
Minimal manipulation and handling of the tissue while increasing its performance properties
You will not experience any discomfort on the day of your treatment. You may have some mild discomfort, bruising or light drainage in the next 2-3 days following the procedure.
You should have a relaxing day on the day of your treatment. You may resume normal activities once you are feeling up to it. This can take 2 to 7 days depending upon the area treated. You may start exercising within a week depending upon the nature of your injury.
You will have a dressing over the harvest site for up to 3 days and may need to wear an abdominal binder to compress the area when walking. You may need to wear a brace (such as a knee brace or ankle brace) to protect the treatment area. You may need to take antibiotics for up to 5 days following the treatment. You should not take steroids before or following the Lipogems procedure.
This is variable depending upon your age, degree of injury and overall health. We have had patients note improvement the day following the procedure, while other people may take up to 2-3 months to see improvement. More than 90% of our patients have seen significant improvement in less than 3 months.
Individual results may vary. Individual patients will have different post-procedural recovery and activity level. Discuss with your physician about potential benefits and risks.
Like any medical procedure, there is a risk for:
Soreness, redness, swelling, pain, bruising and tenderness
Pain and discomfort
Bleeding
Swelling and infiltration at the injection site
Lightheadedness or fainting
Allergic Reaction
Complications:
Allergic reaction to the local anesthetic
Hematoma or seroma (an accumulation of blood or fluid under the skin that may require removal)
Changes in sensation
Permanent discoloration caused by a ruptured blood vessel at the treatment site
Calcification
Perioperative bleeding
Formation of blood clot at the treatment or donor site
Infection
Fat embolism caused by a fat injection mistakenly directed into a blood vessel and death
For patients with chronic medical conditions such as autoimmune, diabetes, heart or lung disease, circulatory diseases or obesity, extreme caution may be necessary.
Lipogems is contraindicated for intravenous use. Other contraindications may adversely affect wound healing and poor overall health status of the individual such as:
Allergy to lidocaine
Breastfeeding patients
Current systemic infection
Hematologic abnormalities
Autoimmune diseases
With blood thinner prescriptions or anticoagulant medications
Ongoing treatment for malignancy or blood borne diseases
Cortisone injection in the treatment site 3 months prior to the procedure
There are approximately more than 8,000 cases of Lipogems procedures performed worldwide in a variety of clinical indications. Lipogems® was awarded as 'Best New Technology in Sports Medicine in 2016' upon the recommendation of sports medicine physicians from leading institutions across the United States.
Research Studies have shown that Lipogems® partnered with leading researchers and institutions to validate and provide high quality evidence with over 20 clinical studies using Lipogems in various clinical cases being performed worldwide.
Lipogems® Testimonials
Patients undergoing the Lipogems procedure at our clinic undergo a strict screening procedure to assure that they are ideal candidates for the treatment.
Within 15 months of tracking the outcomes, more than 90% of our patients experienced significant relief with the treatment and were reported to resume normal, pain-free physical activity. This has led them to improve their fitness, lose weight and improve the quality of their lives in a meaningful way.
San Diego Orthobiologics Medical Group is very excited to be offering this alternate regenerative medicine to our patients, while conducting ongoing clinical research in improving patient care and comfort.  We highly recommend Lipogems® to support bone and joint healing, thus improving patient's mobility.  We are also very enthusiastic to offer our services for those who are candidates for joint replacement surgery.
References
World Stem Cell Summit in Texas, USA (2014) Stem Cells from the adipose tissue as allogenic player in cartilage repair: in vivo performance https://www.researchgate.net