Virtual Care | Telehealth Visits with SDOMG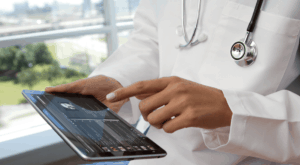 San Diego Orthobiologics Medical Group (SDOMG) is ensuring that patients receive continued care needed during this pandemic. We have setup Telehealth visits for our patients which is a video visit that lets you talk to our doctors face to face in real time.
Here's a quick overview of what you need to know:
You can use any web enabled device including smartphones, tablets, laptops, and desktop computer.
Telehealth visits are available during our regular clinic hours from 9 am to 5 pm Monday to Friday. However availability may be limited to certain days depending on schedule. Please call 760-259-2324 to schedule your Telehealth visit.
Your virtual visits typically takes 15-30 minutes. It will begin promptly at the scheduled time.
The video visit may take about 5 minutes to set up. Our staff will help with your set up prior to your appointment if needed.
We are currently using Zoom.us for our Telehealth.
You will get a link in your email prior to your appointment. You simply click on the link to get connected to the visit.
If you are using zoom for the 1st time, you will be asked to open an account and may need to download the zoom app, both of which will take a few minutes to complete.
If Telehealth is not feasible for you, a telephone visit can be scheduled. Please note, telephone visits may not be covered by your health insurance.
Please contact your provider to determine cost for the visit. A deposit may be required depending on your insurance coverage. We would like to continue taking care of your orthopedic needs. Please don't hesitate to call us for any questions.