Team of Experts and Specialists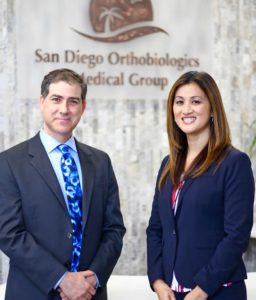 Only physicians with expertise in orthopedic medicine have the necessary training and skills to properly manage orthopedic conditions. Our physicians are board certified in Physical Medicine and Rehabilitation, Orthopedic Surgery, and Sports Medicine. Specialized fellowship training in Interventional procedures, certification in Diagnostic Musculoskeletal Ultrasound and active educational activity participation distinguish your physician as an expert in the field. Our physicians have more than 20 years experience treating San Diegans with joint and spine injuries.
Assessment of the value of Regenerative Medicine therapies can only exist with a complete understanding of the medical literature. The Regenerative Medicine field is moving at an accelerated pace and your physician should be dedicated to maintaining a current understanding of the science and technology as it evolves. This assures that you are receiving the most up-to-date information to assist in your decision making and the most current techniques to ensure safety and efficacy. Our physicians are leaders in the field who lecture at national conferences and contribute to the medical literature.