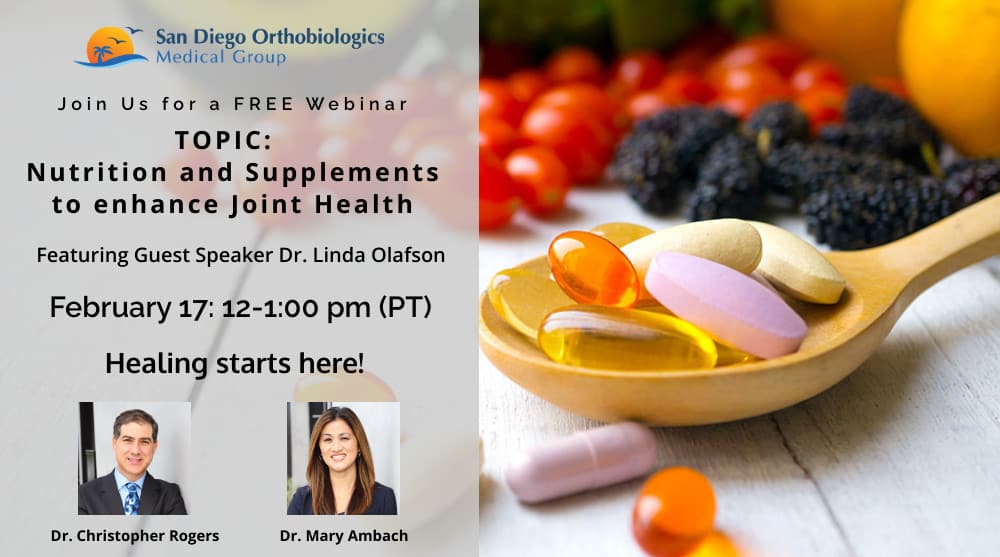 Learn about Natural Treatments for Joint Pain. Gain information on cutting edge treatments like platelet rich plasma (PRP) and other cell-based therapies. Get answers to your questions from experts in the field of Regenerative Medicine.
We are excited to have a Special Guest Speaker on this webinar, Dr Linda Olafson. She is an Integrative Medicine Specialist who will talk about a topic that is of great interest to  patients: Nutrition and Supplements to enhance joint health. She will also be available to answer your questions on this topic after the lecture.
Date and Time : Feb 17, 2021. 12 pm PT
Speaker(s): Dr. Chris Rogers and Dr. Mary A. Ambach featuring our Guest Speaker: Dr. Linda Olafson
Dr. Christopher Rogers is one of the world's leading experts in orthopedic regenerative medicine and a renowned speaker at national medical conferences. He has developed new approaches for the treatment of tendon injuries, osteoarthritis and disc degeneration which provide a safe and viable alternative to surgery.
 
Dr. Mary Ambach specializes in non-surgical orthopedics, regenerative therapies and interventional pain management.  As a key thought leader in the field of Regenerative Medicine, Dr. Ambach conducts research, trains physicians and lectures at international medical conferences.
Dr. Linda Olafson graduated from UC Davis Medical School and is board certified in both family practice and integrative medicine.  She has served as president of the San Diego Academy of Family Physicians and is the founder and medical director of North Coast Integrative Medicine. Her clinical practice is primarily consultative addressing a wide range of health issues such as complex chronic disease, hormone balancing, thyroid optimization, nutrition and advanced prevention. She currently serves as a clinical instructor of family medicine at UC San Diego School of Medicine and writes a quarterly newsletter on health and wellness.