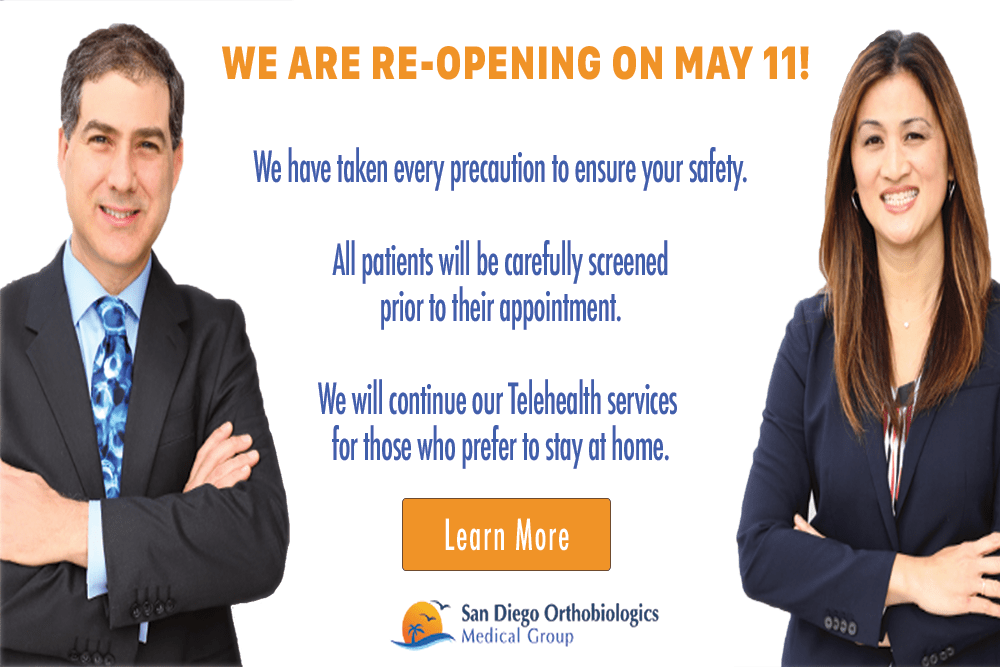 WE ARE RE-OPENING ON MAY 11 !
We have taken every precaution to ensure your safety. All patients will be carefully screened prior to their appointment.  We will continue our telehealth services for those who prefer to stay at home.
Things to Know About Our Re-Opening
SDOMG provides the maximum protection against coronavirus:
SDOMG healthcare providers are tested every 1-2 weeks for COVID-19.

Every member of our staff has tested negative.

Every person will be scanned with an infrared (no-touch) thermometer upon entry to the clinic. Staff are also tested throughout the day.

 

Anyone who has a low-grade fever will not be permitted into the office.

All staff members wear masks to reduce the potential spread of the virus to patients.

All patients are required to wear mask during their clinic visit.

All surfaces are cleaned frequently with qualified antiviral disinfectants.

Common areas, including doorknobs, will be cleaned every 30 minutes.

We observe 6-foot social distancing in the entire office.

In order to minimize contact, only critical staff members will remain on-site.
Our Reception Area
We provide a virtual waiting room for those who prefer to wait in their vehicle.

 

We will call you when your personal consultation room is available.

If you prefer to wait inside, our reception area provides 6 feet of space for each person.

We ask you to observe our One Patient / One Companion policy and ask that you do not bring more than one other person with you to your appointment.

Your companion can stay in your vehicle and will be called when your visit concludes.
Virtual Care and Telehealth Visits
We will continue telehealth visits to ensure that our patients get the continued care they need during this pandemic.  The video conference visit allows you to talk with our doctors face to face in real time in the comfort of your own home.
Here's a quick overview of what you need to know:
You can use any web-enabled device including smartphones, tablets, laptops and desktop computers.
Telehealth visits are available during our regular clinic hours from 9 am to 5 pm, Monday through Friday, however, availability may be limited depending upon the schedule.
Your virtual visit typically takes 15-30 minutes. It will begin promptly at the scheduled time.
The video visit may take a few minutes to set up. Our staff will help with your set up prior to your appointment if needed.
We are currently using

Zoom

for our Telehealth service.

 

You will receive a link in your email prior to your appointment. You simply click on the link to get connected to the visit. If you are using Zoom for the first time, you may be asked to open an account and may be required to download the zoom app, both of which will take a few minutes to complete.
If Telehealth is not an option for you, a telephone visit can be scheduled. Please note, telephone visits may not be covered by your health insurance.
Please contact your provider to determine the cost for the visit. A deposit may be required depending upon your insurance coverage.
Please don't hesitate to call us for any questions.
Call (760) 259-2324 to schedule your telehealth visit.