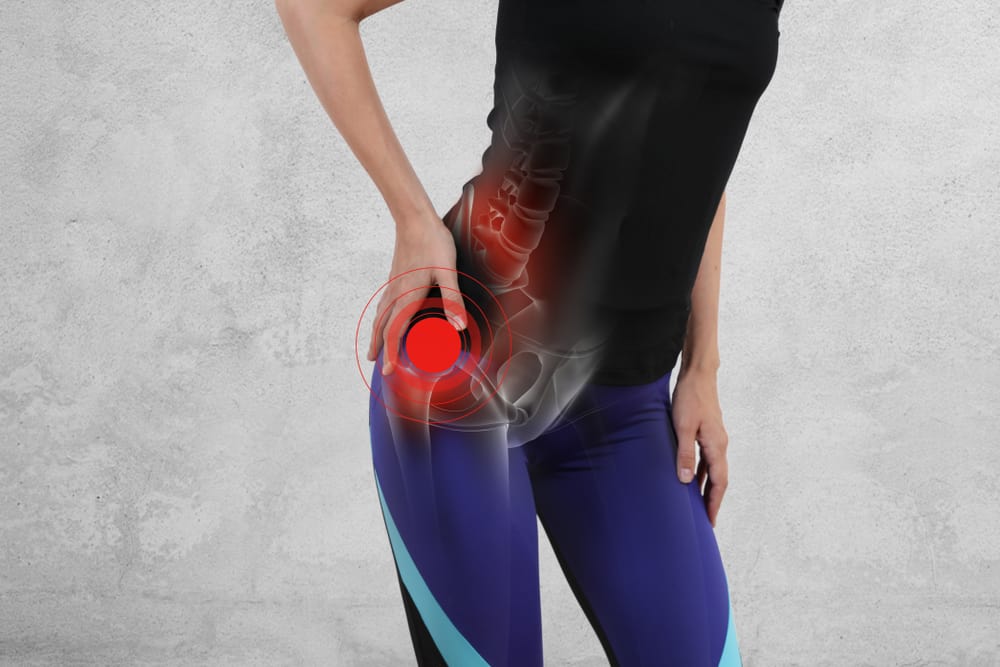 As one of the body's largest joints, the hip gets its fair share of wear-and-tear over the years. The hip joint is a ball-and-socket joint, consisting of the femoral head at the top of the thighbone (ball) and the acetabulum in the pelvis bone (socket).
Chronic hip pain often develops in those over the age of 50, but can occur earlier, especially in those who are overweight or who have had a previous hip injury or surgery. Some people are born with abnormalities of the joint that put them at higher risk for hip issues as well.
Common symptoms of hip problems include:
Groin pain

Limping

Decreased range of motion and stiffness

Tenderness around the front or back of the hip

Clicking, popping or locking of the joint
Why Do I Have Chronic Hip Pain?
Common causes of hip pain include:
Osteoarthritis: chronic degeneration of the cartilage and inflammation of the hip tissues and joint fluid.

 

The degeneration can be accelerated by trauma causing damage to the cartilage and subtle irregularities in how the hip developed in childhood.

Bursitis: inflammation of the b

ursa, a fluid-filled sac that cushion the tendons overlying the bones

Tendinitis and tendon tears: damage to the tendons in the hip, often from overuse or muscle weakness

Labral tears: injury to

the labrum, a soft cartilage tissue that

surrounds the hip socket

Sacroiliitis: Inflammation of the sacroiliac joints where your lower spine and pelvis connect.

Avascular necrosis: impaired blood flow to the hip bone causes damage
The good news for patients suffering from chronic hip pain is that advances in regenerative medicine are giving hope to those who feared that total joint replacement therapy was their only option.
San Diego Orthobiologics Medical Group offers several advanced regenerative therapies for hip joint pain:
Platelet Rich Plasma Therapy

uses growth factors from the platelets in the patient's own blood by releasing substances called growth factors

concentrates platelets

to stimulate tissue healing

for degenerative joints and soft tissue injuries.

ENDORET PRGF (platelet rich in growth factors) contains proteins that stimulate the tissue repair processes, including new blood vessel formation, cell mobilization and cell proliferation. PRGF can accelerate healing and minimize inflammation that reduces pain.
Bone Marrow Aspirate Concentrate (BMAC): utilizes your own bone marrow which contains cells that have the ability to improve circulation, decrease inflammation and promote healing in tendons, ligaments and cartilage.

 

BMAC provides highly concentrated regenerative cells to support a robust healing response through a simple office procedure.
LIPOGEMS® is an FDA-compliant device for processing and same-day use of your own adipose tissue (fat) to treat joint and tendon injuries.

 

Adipose tissue is a rich source of adipose derived stem cells and other regenerative orthobiologics.
Prolotherapy, also known as "proliferative therapy," delivers dextrose and other medications to help regenerate tissue and stimulate a healing response in a chronically injured ligament, tendon or joint. Prolotherapy is often combined with PRP therapy to expedite healing.
Alpha 2 Microglobulin (A2M) uses uses orthobiologics from a patient's own blood to stop the progression of joint degeneration, decrease inflammation and promote tissue healing.
These treatments offer better safety than most surgical procedures as they are minimally invasive and are performed in our office procedure suite.  Patients do not require hospitalization, or a lengthy recovery.  Many patients are able to resume normal activities within days of their treatment and see pain relief within weeks.
Drs. Christopher Rogers and Mary Ambach of San Diego Orthobiologics Medical Group are leaders in the field of regenerative medicine for orthopedic conditions.  They were the first in San Diego to use Lipogems® as well as ENDORET PRGF therapy for the treatment of orthopedic conditions.
Sources: 
https://orthoinfo.aaos.org/en/treatment/total-hip-replacement/
https://www.mayoclinic.org/diseases-conditions/sacroiliitis/symptoms-causes/syc-20350747
https://www.mayoclinic.org/symptoms/hip-pain/basics/causes/sym-20050684